Female Presa Canario for Sale in Georgia
D&G Kennels is home to a diverse group of purebred Presa Canario females who come from award-winning lineages. Unlike other Presa kennels in Georgia and across the U.S., our females are imported from the Canary Islands, selected from the finest breeding stock. Our females have produced litters of puppies who have gone on to be award-winning dogs.
Diverse Breed Traits
most refined and appealing traits of the Canario breed
Many Presa Canario kennels have one or two females, limiting the number of litters they're able to produce or the pedigree of available puppies. At D&G Kennels, we have as many as eight Dams. This ensures not only our ability to pass on the most superior traits of the Canario breed, but to deliver pups with diverse markings and physical attributes.
Pedigree and Lineage Available
Documented pedigrees dating back generations
D&G Kennels is very serious about maintaining the pedigree standards of our dogs. A large part of this is lineage documentation. All our females have documented pedigrees dating back generations, and many can trace their roots to champion pedigrees. Likewise, our females have produced offspring that maintain this pedigree in more than 30 countries!
Inquire About Breeding
Many of our females are available for breeding with approved males. We reserve the right to ask for documentation and health records for suitable Sires, to preserve the pedigree integrity of any offspring. To inquire about breeding opportunities, please contact us directly.
D&G Kennels offers tours of our kennels by appointment only. To learn more about our females, to inquire about upcoming litters or for information about pedigree and lineage, please contact us today at 770-403-9891.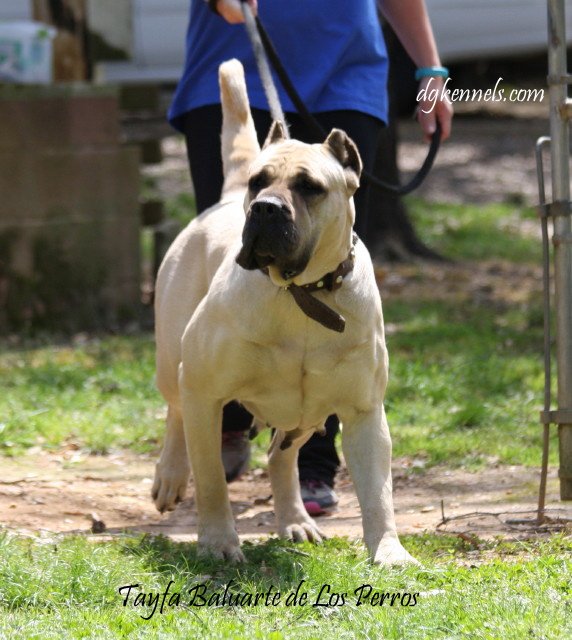 Tayfa Baluarte de Los Perros
DOB: August 7, 2015
Sire: Boris Dog Pur
Dam: Fighter of the Lowland Arizona
135 LBS
24 IN
View Pedigree

---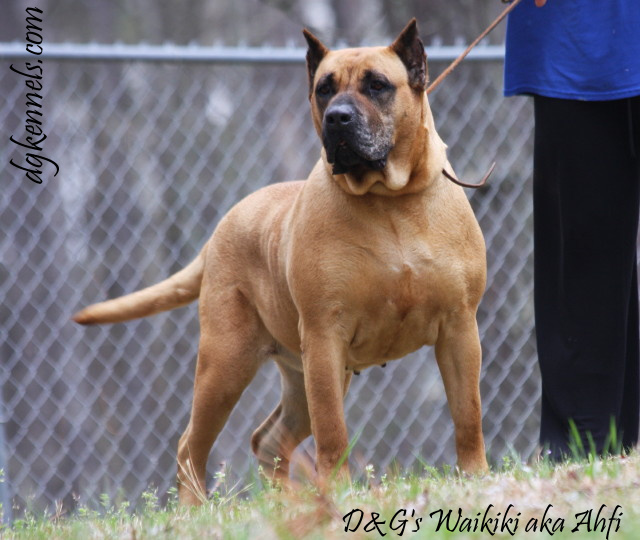 D&G's Waikiki aka Ahfi
DOB: 2/21/2016
Sire: Sander's Mongo
Dam: D&G's Georgia
132 LBS
25 IN
View Pedigree

---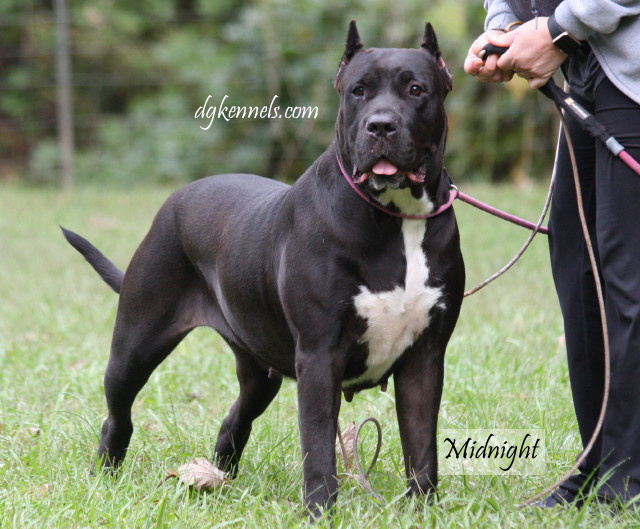 Midnight
DOB: February 7, 2016
Sire: Django Griffin
Dam: Bap de Cluj Lima
128 LBS
25 IN
View Pedigree

---
---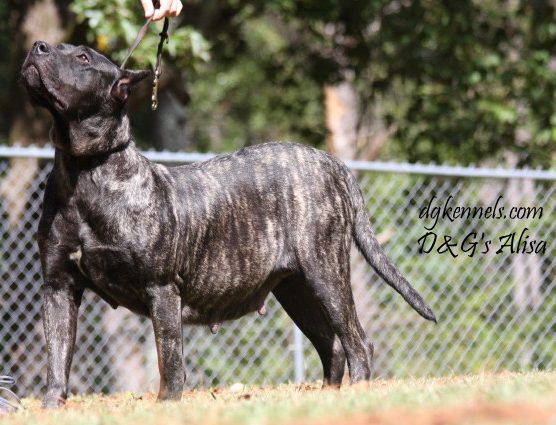 ---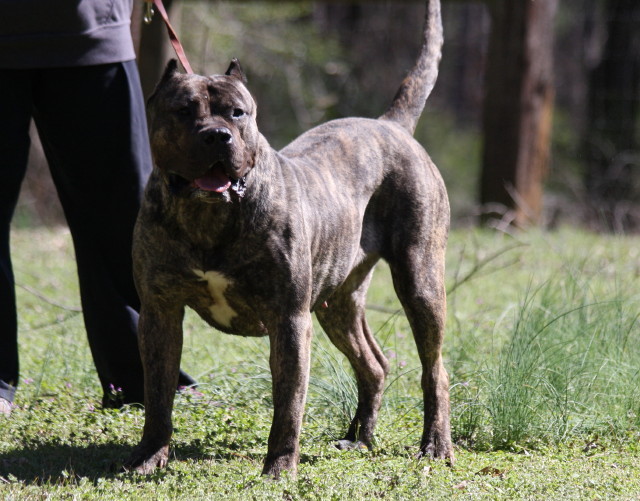 D&G's Jade aka Gussie
DOB: August 28, 2014
Sire: D&G's Cortez
Dam: Midgard's Queen Ziva
130 LBS
25 IN
View Pedigree

---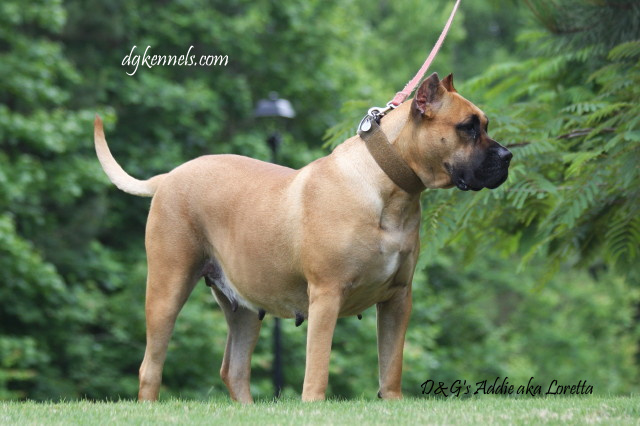 D&G's Addie aka Loretta
DOB: 8-4-2016
Sire: Steeljaw's Big
Dam: D&G's Georgia
25 IN
133 LBS
---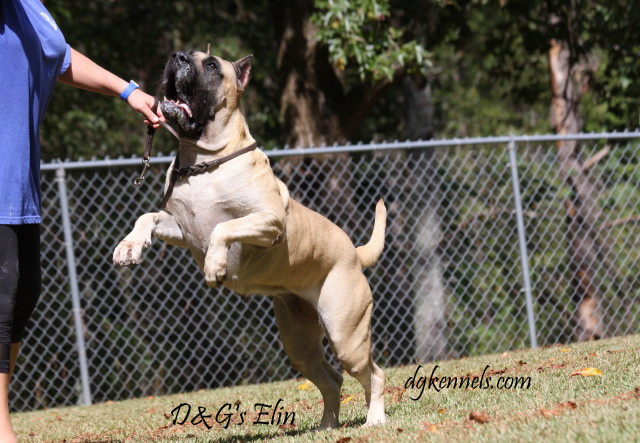 D&G's Elin
DOB: 1/12/2017
Sire: CH Serach de Spalato Bull
Dam: Tejena de Atlantida Can
24.5 IN
121 LBS
View Pedigree

---
---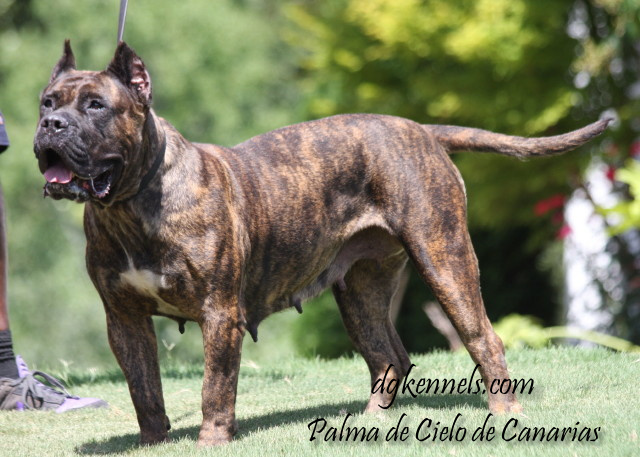 Palma de Cielo de Canarias
DOB: 12/17/2013
Sire: Drago de Volcan Isleno
Dam: Mia de Cielo de Canarias
23.5 IN
115 LBS
View pedigree here
---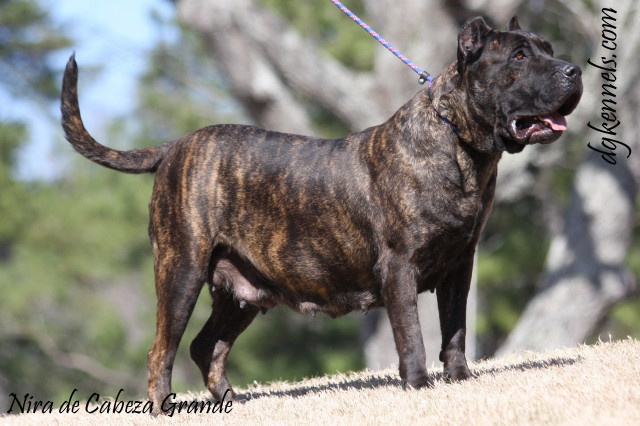 Nira de Cabeza Grande
DOB: 2/1/2016
Sire: Yago de Cabeza Grande
Dam: Wikit de Cabeza Grande
115 LBS
24 IN
View pedigree here
---
---