Presa Canario Stud Service in Bremen, GA
D&G Kennels is proud of our strong lineage of award-winning Presa Canarios. Our males continue our tradition of careful breeding for health, temperament and the most desirable physical attributes of the Presa breed. They have fathered litters for some of the most touted Presa puppies in the world. Our males are available for Presa Canario stud services, with full pedigree and lineage information available.
Stud Services
D&G Kennels Strict Breeding Standards
Over the last two decades, D&G Kennels has become one of the most reputable kennels in Georgia and across the United States for Presa Canario stud service. This is because we've maintained strict breeding standards and cultivated strong pedigree stock, to ensure our Sires are only passing the most desirable traits on to offspring. If you're interested in Presa Canario stud services, we invite you to contact us today for more information. We're happy to discuss opportunities for breeding with approved Dams.
Pedigree and Lineage Available
Top Presas around the globe
D&G Kennels is very serious about maintaining the pedigree standards of our dogs. A large part of this is lineage documentation. All our Presa Canario males have documented pedigrees dating back generations, and all can trace their roots to champion pedigrees and strong working lines. Likewise, our Sires have produced many of the top Presas around the globe, and our lines are represented in more than 30 countries around the world today!
---
Frozen Specimens
Prize-winning – Champion Sires
We've cultivated frozen specimens for several of our prize-winning, champion Sires, as well as Sires who have since passed. We are extremely selective of breeding opportunities for frozen specimens. If you have questions or would like to inquire about breeding opportunities, please contact us today.
Come Meet Our Males
D&G Kennels offers kennel tours by appointment only. If you're interested in Presa Canario stud services or want to inquire about frozen specimens for approved breeding, please contact us today at 770-403-9891 for more information in Bremen, GA or to take a look at male or female Presa Canario for sale.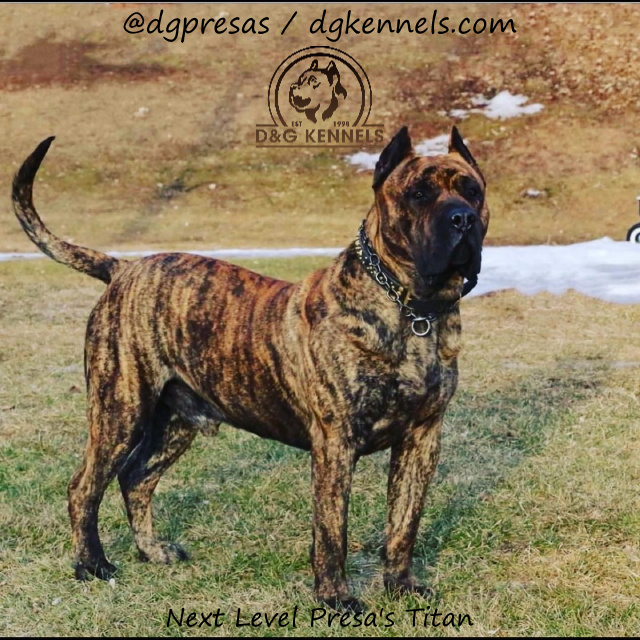 Next Level Presa's Titan
DOB: 5/2/2016
Sire: JBI's Brutus
Dam: D&G's Harley
158 LBS
26 IN
---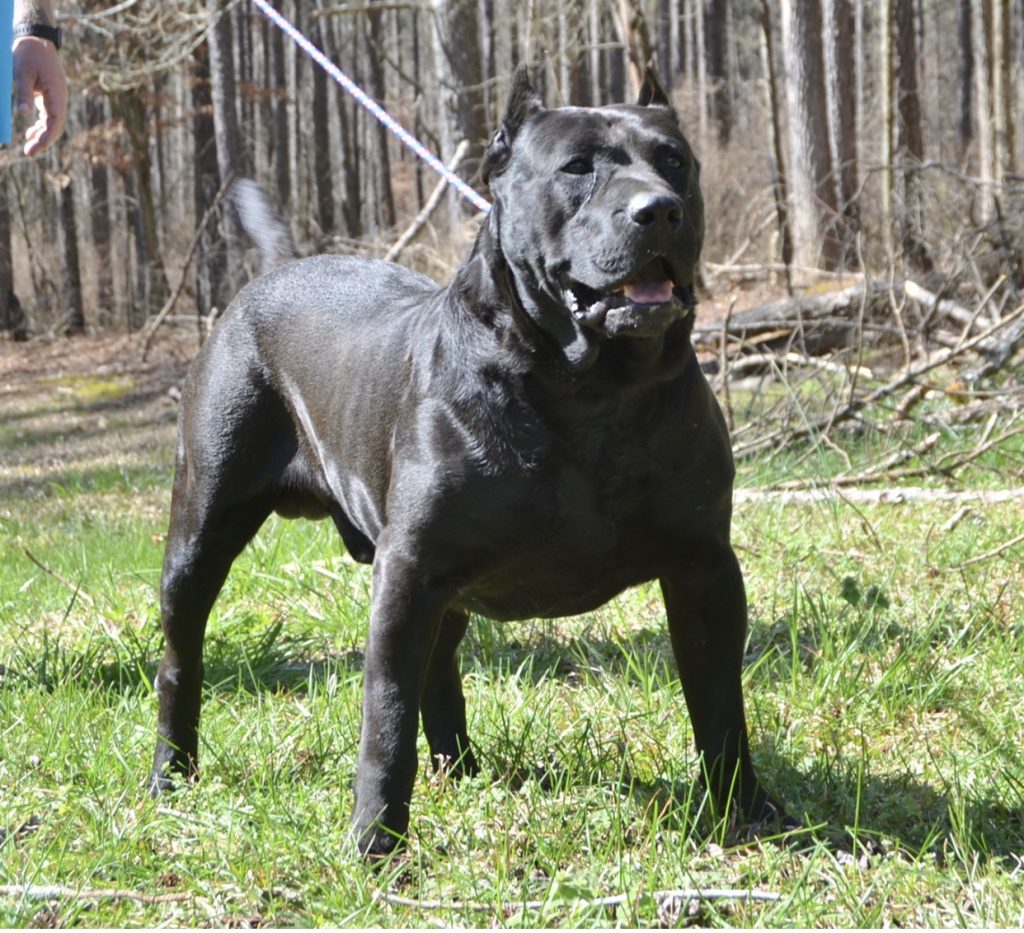 Hades of Seven Sharky Dinasty Kennel
DOB: June 5, 2015
Sire: Boss Bull Canario Roy
Dam: Darla Presa del Dracula
125 LBS
25 IN
View Pedigree
---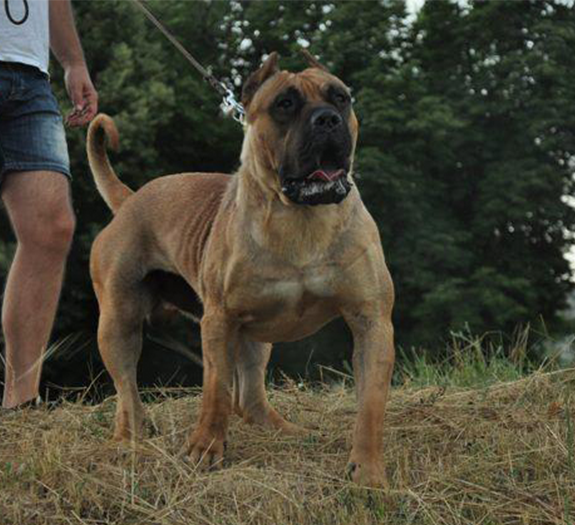 CH Serach de Spalato Bull
DOB: January 18, 2011
Sire: Cid de Rojo Y Oro
Dam: Isa de Casa del Presa
135 LBS
25.5 IN
View Pedigree
---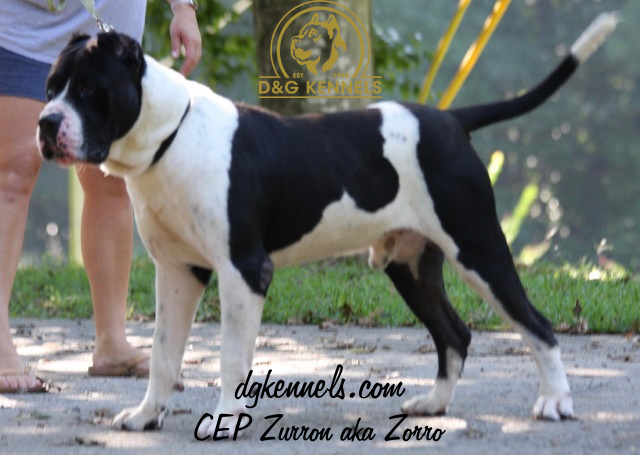 CEP Zurron aka Zorro
DOB: 5/20/2019
Sire: Peyote
Dam: Tara la Negra
26.5 IN
125 LBS
View Pedigree
---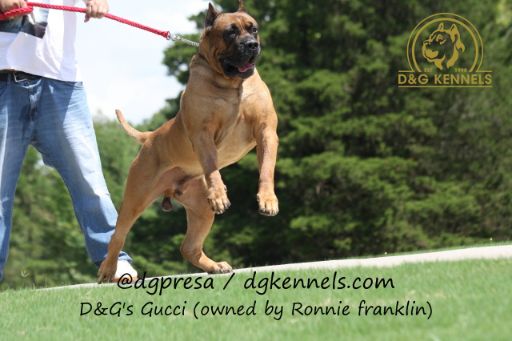 D&G's Gucci
DOB: 6/10/2017
Sire: CH Serach de Spalato Bull
Dam: D&G's Floriana
27 IN
160 LBS
View Pedigree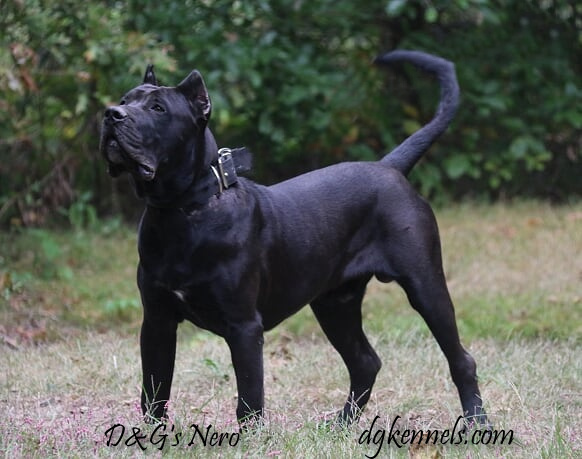 D&G's Nero
DOB: 9/1/2019
Sire: Hades of Seven Sharky Dinasty
Dam: D&G's Trinity
25.5 IN
130 LBS
View Pedigree
---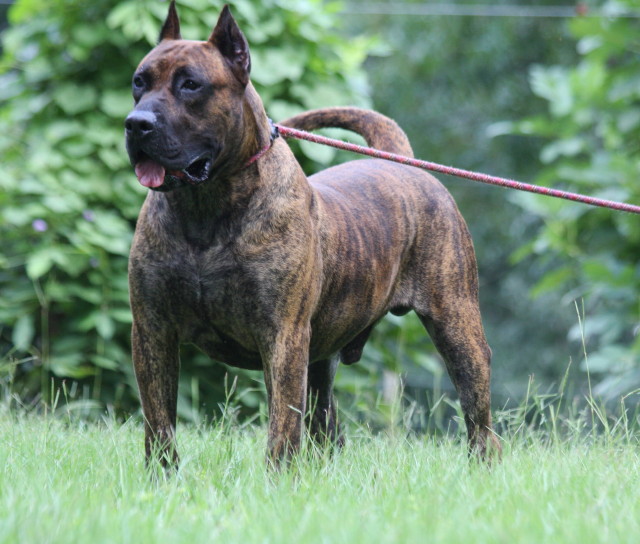 JBI's Brutus
DOB: March 24, 2012
Sire: Panzer de Guadalcan
Dam: Espanola
155 LBS
26 IN
View Pedigree
---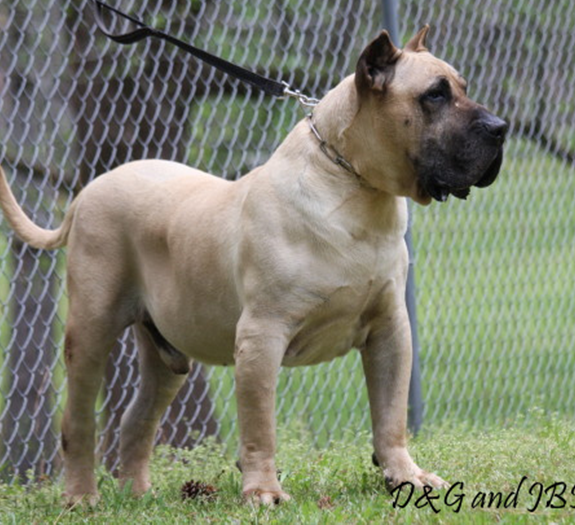 D&G and JBI's Freak
DOB: February 2, 2013
Sire: Spanish Champion Oscar de Guadalcan
Dam: Anaga de Aborigen de Atguaxona
173 LBS
27 IN
---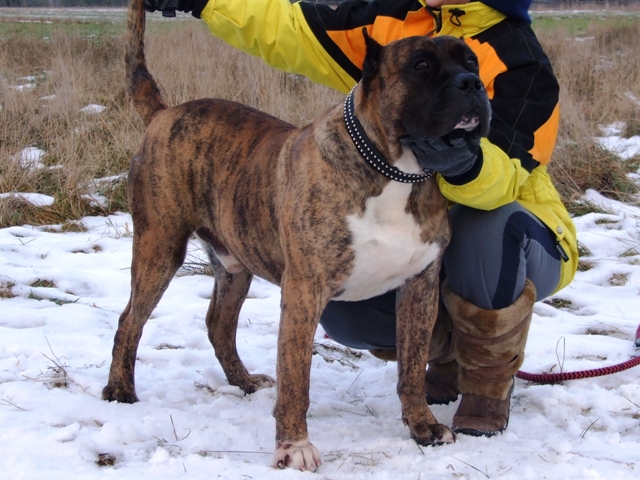 CH Uro de Los Cardones
DOB: July 5, 2001
Sire: Boxo de Myantigot
Dam: Zala de Los Cardones
130 LBS
25 IN
View Pedigree
Confirmed Excellent, 2006 American Monografica
Owned By Jose Luis Alvarez, Fencing Dog Kennel, Located in Madrid, Spain.
We currently have frozen semen available for breeding to approved females only.
View Uro's Pedigree
---
CH Ur de Los Cardones
DOB: July 5, 2001
Sire: Boxo de Myantigot
Dam: Zala de Los Cardones
143 LBS
25 1/4 IN
Owned By Paloma Iglesias, Carmamena Kennel, Located in Madrid, Spain
Featured in El Mundo del Perro Magazine
We currently have frozen semen available for breeding to approved females only.
View Pedigree
---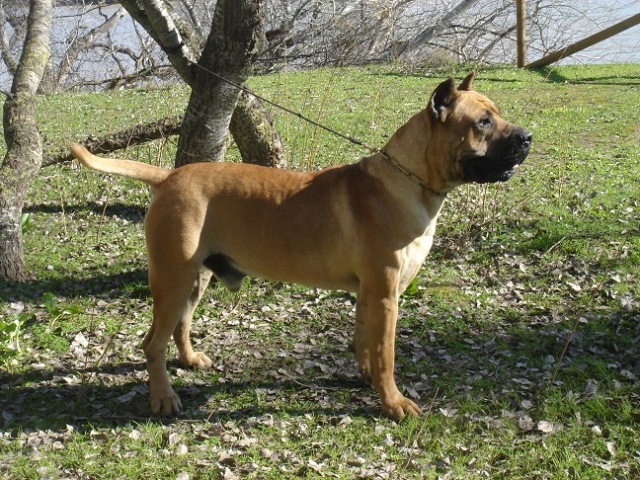 CH Oscar de Guadalcan
DOB: April 1, 2008
Sire: Guayre de Cielo de Canarias
Dam: Spanish Champion Candela de Guadalcan
145 LBS
26 IN
Owned By Guadalcan Kennel in Seville, Spain
We currently have frozen semen available to approved females only.
View Pedigree